For four centuries the Kings of Mysore in South India have organized elaborate public celebrations for Dussera, which traditionally marks the beginning of the harvest season in India. If you're of a more mythological bent, it is the day that Lord Rama defeated the demon king Ravana of Ceylon (now Sri Lanka), sparking off mad celebrations all over the country. In Mysore this means a procession of beautifully decked up palace elephants, never ending variants of folk art forms from across the state, and a few hundred thousand people squished behind the barricades struggling to get a glimpse of the passing entourage, human and animal. This year being the 400th, it was treated with even more pomp and ceremony. The best elephants were brought in from forest camps all over the state and the number of folk artists and general attendees were exponentially larger than even the normally busy years.
The Elephants, painted with rangoli and dressed in fine armour and decorations, have long been an essential element in the Dussera celebrations. Elephants and their mahouts travel from all over Karnataka on foot, sometimes for days to take part in the annual Dussera "Jumbo Savari" or elephant parade that leads the Dussera parade down the streets of Mysore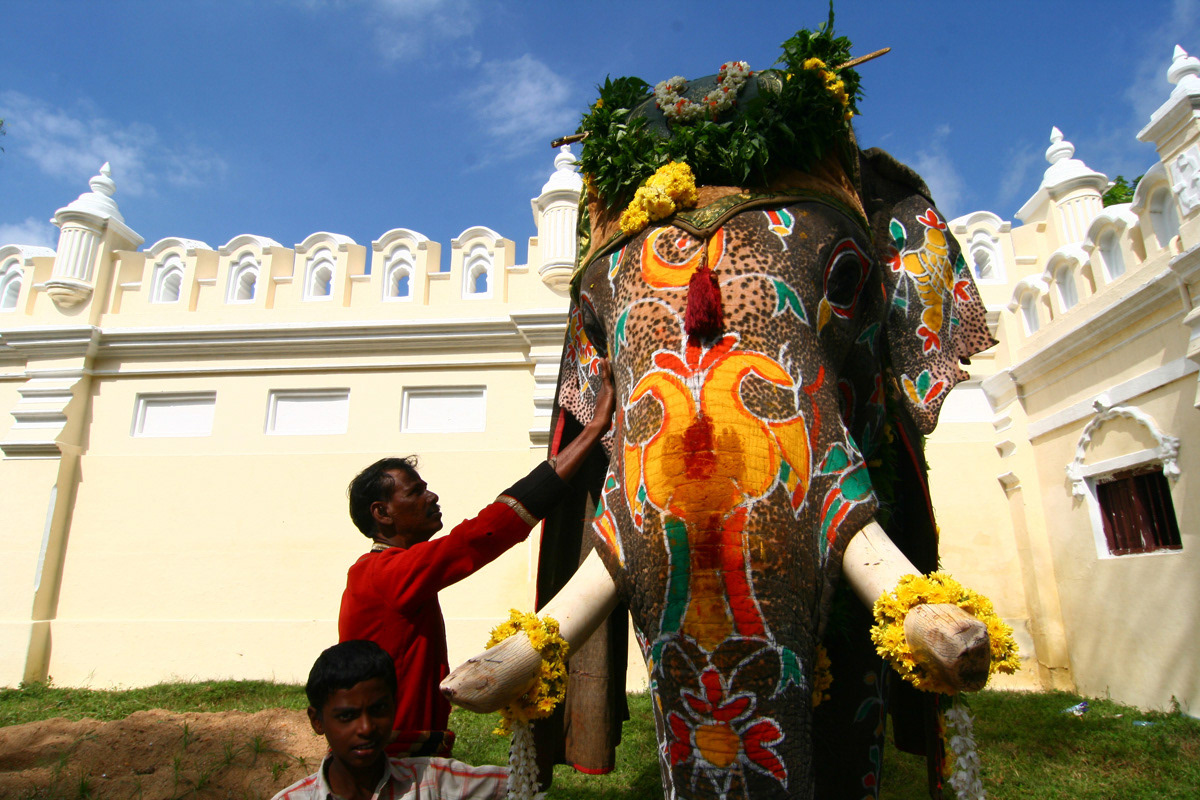 Balarama, the lead elephant carries a golden seat for the Goddess Chamundeshwari, the presiding deity of Mysore. This was Balarama's last year as the lead after having served for 19 years. He was replaced by Arjuna, another huge bull elephant.

The mahouts that take care of these elephants live in the shadow of the Mysore King's Palace but still only have tiny tin houses in which to fit their entire families.
The wrestlers come out of the woodwork during the time of Dussera for tournaments, big and small, in the palladiums of Mysore or the maidans of the nearby villages, the menfolk are abuzz with bets and the joy that only men can feel while watching their ilk pounce and pound each other. The old guard who still live, train and teach in traditional akharas (only 10 remain out of 160 in just 5 decades).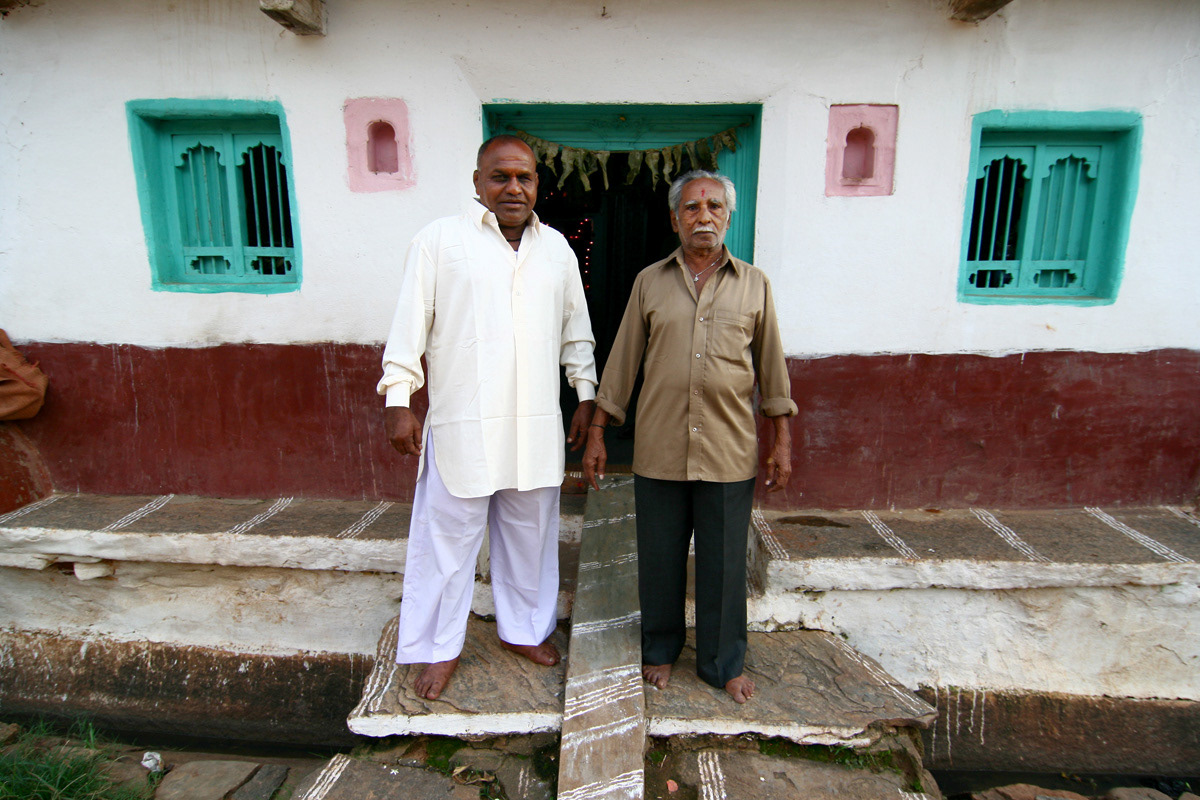 Chinnaveera, an old champion, stands like a colossus with ears deformed by years of the ear grabbing that is common in this method of wrestling. He stands here with his mentor.

Folk Artistes from all over Karnataka perform during the 400th anniversary celebrations. Some are percussionists and musicians, others dancers and then there are a large number of costumed performers who turn out as Gods and demons, monarchs and strange creatures that inhabit myth and legend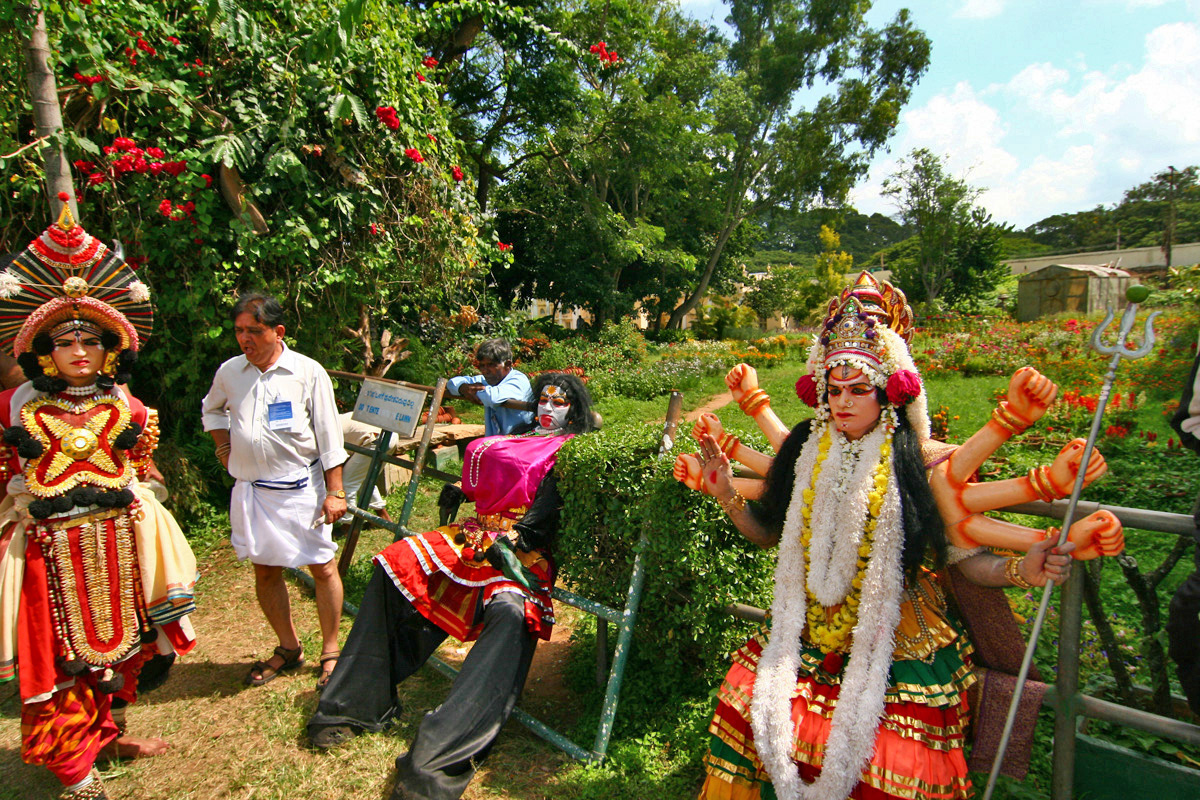 Thousands of people throng the narrow sitting areas  and every available space are squashed against the barricades trying to get a glimpse of the procession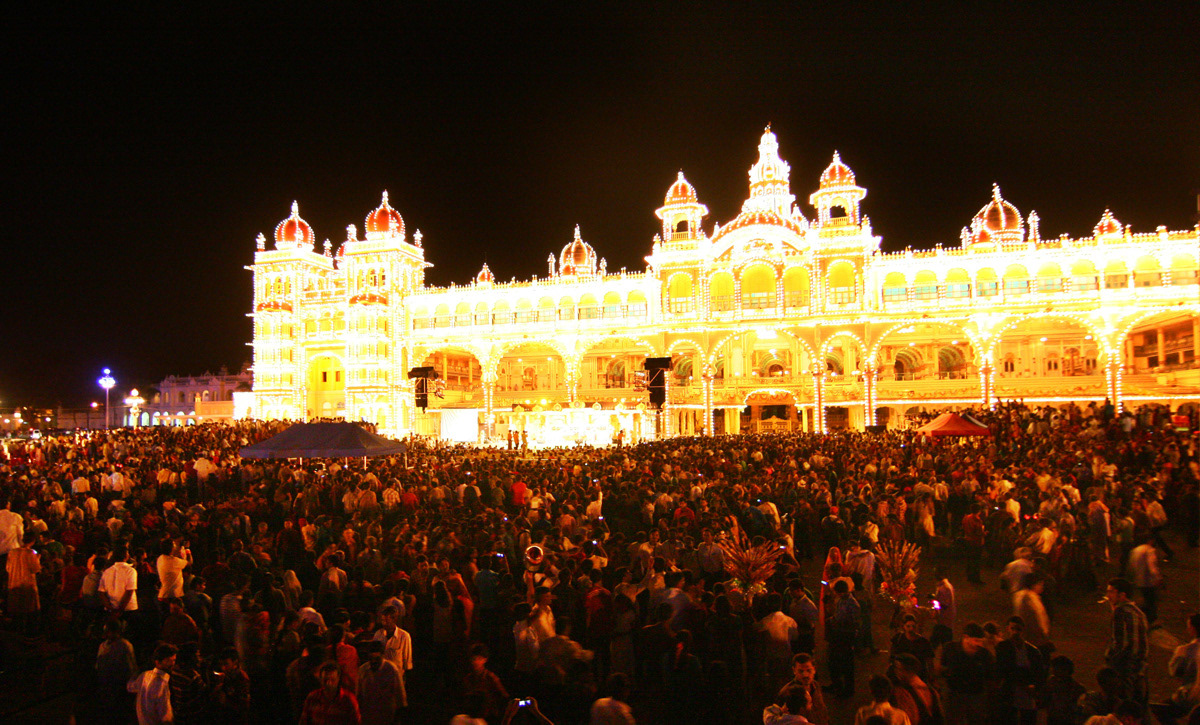 The Mysore palace lit up at night is a breathtaking sight, one that thousands of people throng to see