The lives of street vendors are fraught with troubles, starting with the daily bargain with the middle men at various mandis (large scale wholesale markets where farmers bring their goods to be sold), to hiding from the police and local municipal corporations when they are shooed away from their spots, to fighting for prime spaces that receive the highest footfalls. Sometimes during festive seasons customers flock to buy their wares and at other times they are lost to the abyss of ennui and uncertainty. Still, they prevail, reclaiming their spaces and lives every single day with the hope of making just enough to fight another day. These photos were made in collaboration with Maraa Media Collective and the Alternative Law Forum to create work around street vendor rights in Bangalore.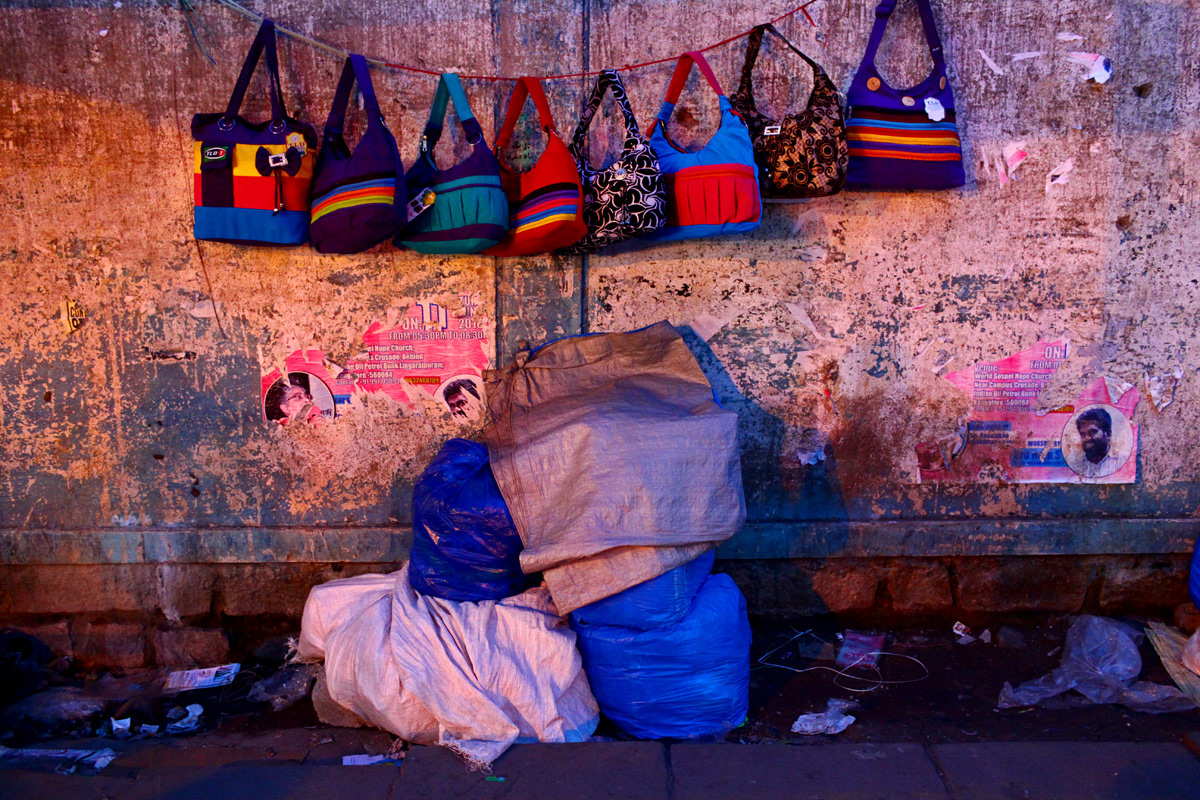 The oldest in the market.
The vendors' beloved.
In his hey day, he traveled to every
corner. Carrying underwear, fruit,
tarpaulin and hair clips. He sold in
every corner of the market Until
everything was sold. He stood
proud and satisfied.
He dreamt of seeing his grandchildren.
But a sudden raid,
a severe beating, led to his
untimely demise. His body pulled
apart, plank by plank, until all that
was left, were a few pointed nails,
a sharp memory, an omen of what
is to come.
He is sorely missed, and will never
be forgotten.

- Ekta Mittal -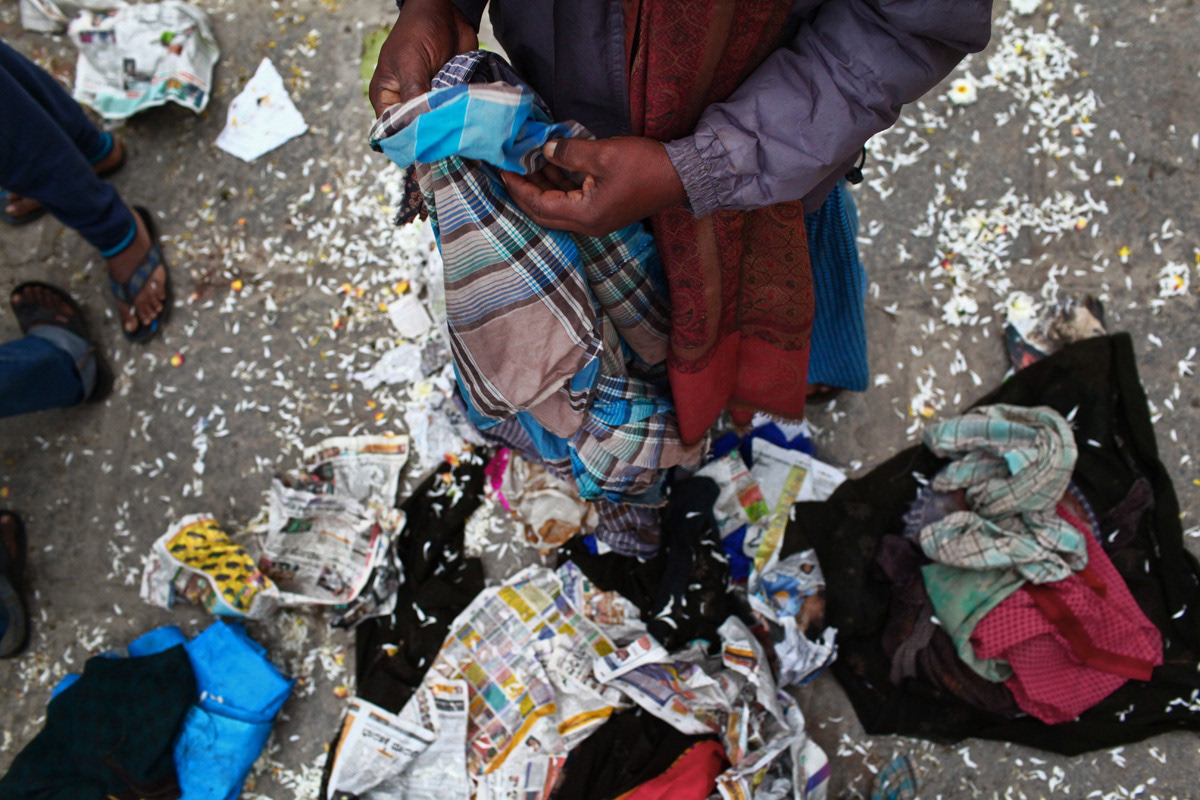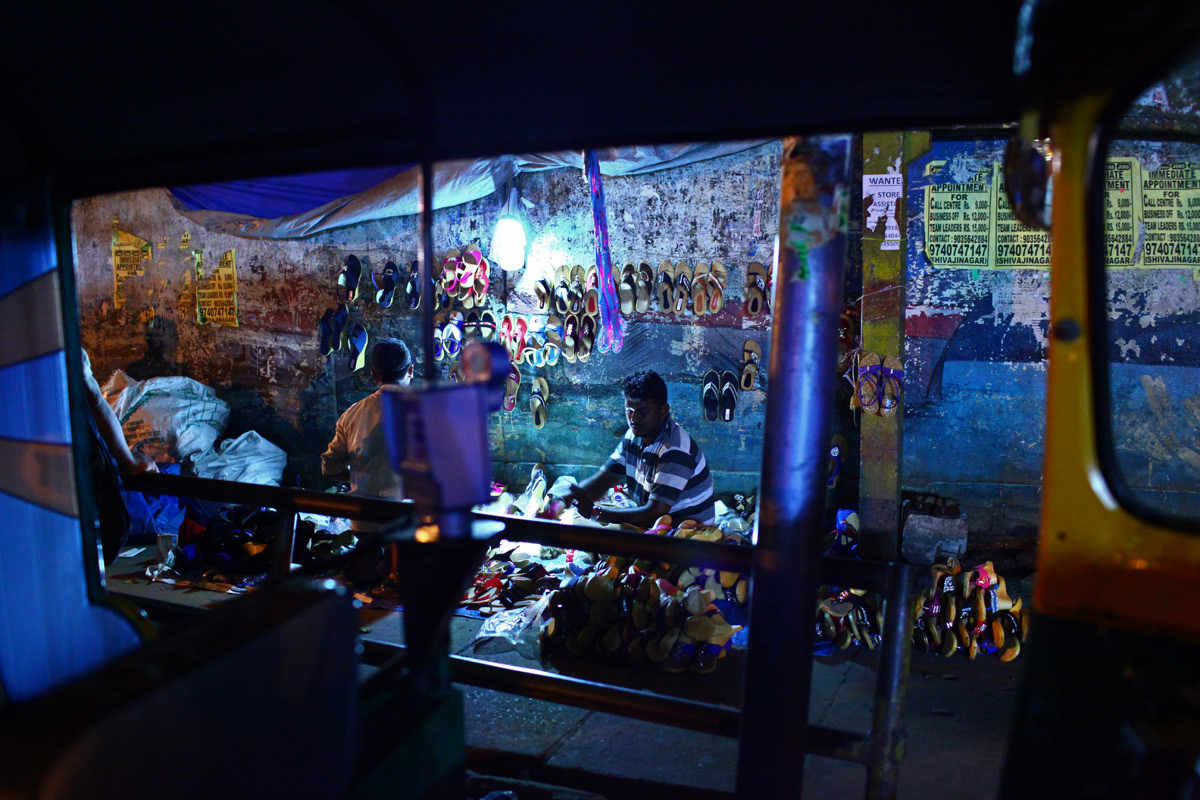 Do you see, a flash of khaki? 
Can you hear that, 
a shrill siren? 
Can you feel that, 
the thud of a stick on your arm? 
RUN.

- Ekta Mittal -
Ekta Mittal is the co-founder of Maraa, a media and arts collective in Bangalore. She works as a researcher, filmmaker, facilitator and curator in the field of community media, gender and migration. She was a recipient of the Archival and Museum Fellowship from IFA to research at the Indian Labour Archives (ILA) in 2011-2012. Following her research she made a film titled Down the Rabbit Hole that explores the landscape of the ILA in an attempt to converse with materiality in all its textures, patterns and forms. Her work through Maraa cuts across class, caste and gender. Maraa has been facilitating and building capacities for people's media including community radio, in India, Bangladesh and Nepal. They work with adolescents and women in rural India to prevent sexual violence and discrimination. They also produce short films on caste-based occupations like manual scavenging, bonded labour as well as survivors of rape. They help non-profit organisations develop media strategies and conduct gender and sexuality training workshops with them.